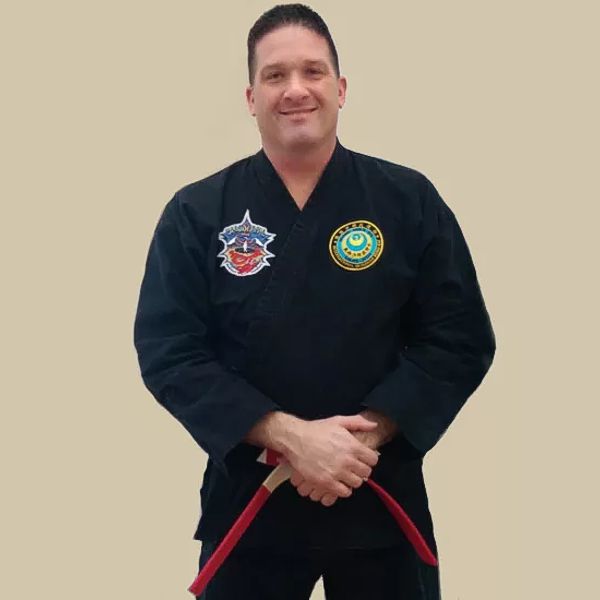 James Gifford began his martial arts training in Isshin Shorinji Ryu Okinawate under Shihan Ralph Chirico and Shihan Wayne Ben-Ali in 1979. He switched to Shinmei Shorin Ryu Karatejutsu under Soke Matt Molineux in 1993, and was promoted to Godan on June 3, 2001.
Shihan James Gifford graduated from Rutgers University in 1991 with a B.S. in Biology. He received a ROTC commission in the United States Air Force on Aug 21, 1991 and entered pilot training at Reese AFB in May 1992. Upon graduation he flew the KC-135R Stratotanker for 3 yrs at McConnell AFB, KS. While stationed there, Sensei Gifford deployed to Saudi Arabia in support of the "no fly zone" in northern Iraq, Turkey and Bosnia. Quickly rising to the top, he was chosen for the selectively-manned tanker Special Operations mission.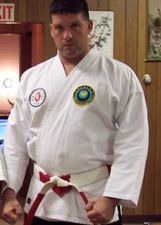 The Air Force called and Shihan James Gifford accepted a new assignment to Kadena AB, Japan and continued to fly the KC-135R for another 3 yrs. While in the Pacific, he deployed to Diego Garcia in support of B-52 refueling for Operation Desert Scorpion, Thailand, Singapore, Alaska, Australia, Korea and New Zealand. It was out of Kadena that Sensei Gifford was selected for the "Crossflow" program in which there is keen competition to transfer from heavy aircraft to fighters. He was chosen to fly the F-15E Strike Eagle – undeniably the most advanced fighter in the Air Force inventory– in 1999, and after 18 months of training, he moved to RAF Lakenheath, UK. The unit there is the spearhead for the U.S. military instrument of power in Europe. Its mission includes air superiority, close air support, precision guided munitions and special weapons. Shihan Gifford was assigned to the 494th Fighter Squadron and earned the call sign "Venom."  Following his tour in Lakenheath, he was handpicked to work at the Joint Staff, J-3, Joint Operations, Pentagon, Washington D.C.  Following his JCS tour, he attended Air Command and Staff College at Maxwell AFB, Alabama.  After finishing as a Distinguished Graduate, Shihan Gifford was stationed in Oklahoma as an instructor pilot in both the T-38 Talon and the T-6 Texan.  After serving as the Operations Officer in two squadrons, Shihan Gifford was selected as the Commander of the 8th Flying Training Squadron.  In May of 2010, Shihan Gifford was competitively selected to serve as a Military Aide to the Secretary of defense and is currently stationed in Washington D.C.
Shihan James Gifford currently holds the ranks of 7th Dan in Shinmei Shorin Ryu and 7th Dan in Shinto Yoshin Ryu.  He had the distinct honor of being tested for Godan in Shinto Yoshin Ryu directly by Master Douglas Grose. He is the Chief Liaison Officer and AJKAI Chief Instructor for Oklahoma and Virginia.  Interestingly enough, Shihan Gifford had the honor of teaching Shinmei Shorin Ryu on Okinawa, where the style has its roots in the Matsumura lineage.