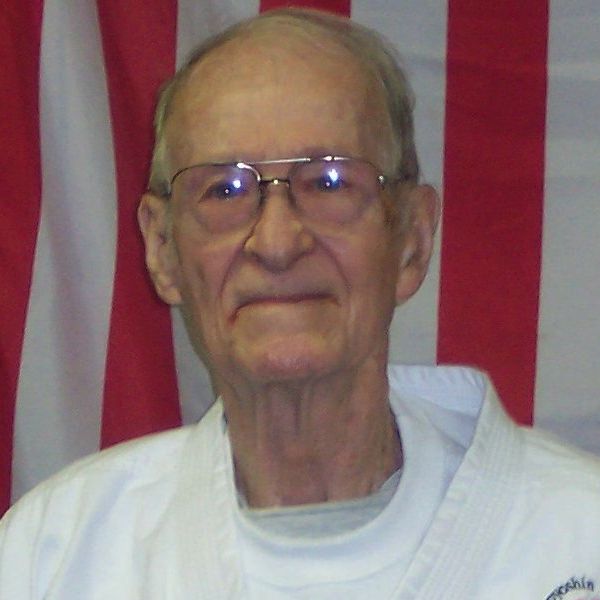 Remembering Grandmaster Douglas Lloyd Grose
PEORIA – Douglas Lloyd Grose, 83, of Peoria passed away Thursday, Oct. 19, 2006, at Rosewood Care Center in East Peoria, Ill.
He was born Dec. 5, 1922, in Pekin, Ill., to Carl and Georgia (Hill) Grose.
He married Ruth Mugele, and is survived by three sons, Tom and (Anjar) Grose of Washington state, James Grose of Washington state and Wayne Grose of Illinois; one daughter, Vera Harrison of Peoria, Ill.; and one grandson, Jean Pierre, son of Tom and Anjar Grose. He is also survived by his brother, Kenneth Grose of Quincy, Ill.; cousin, Donna (George) Kozuch of Peoria, Ill.; and many devoted students and friends all over the world.
Douglas Grose graduated from Peoria High School in Peoria, Ill., received an associate's degree in criminology from Illinois Central College and also has an honorary doctorate in Oriental Studies.
Douglas Grose joined the Army Air Corps in 1942 and served as a master gunnery instructor and a tail gunner during World War II. While stationed in Podington, England, he flew 13 missions, all in B-17 bombers. On his first mission, Mr. Grose was shot down. Out of his crew, four members made it back to Allied controlled territory. While on a mission over Berlin, Germany, his plane lost two engines and he was hit in the chest and back by flak. Mr. Grose was shot down a total of three times while on bombing missions. On one of his last missions, his plane was shot down behind enemy lines, and Mr. Grose walked his way back to friendly territory.
For his service to his country, Mr. Grose received the Distinguished Flying Cross, Bronze Star and several other medals, including a letter from President Harry Truman for bravery, leadership and his contributions to the service.
In 1942, while in the Air Corps, Grose studied the Shinto Yoshin style of Jiu-Jitsu under the direction of a Mr. Uechi Takashi. Finding this style of martial arts one of the best and most encompassing, Grose stayed with it to eventually become the grandmaster of the American Shinto Yoshin style. Mr. Grose's martial arts experience spanned his lifetime. Starting as a young boy learning Chinese gung fu, he continued studying in Judo, Jiu-Jitsu, Aikido, several styles of Karate, Tae Kwon Do and Kobudo (weapons). Mr. Grose was one of the early pioneers of the martial arts in the United States.
After the war, Mr. Grose founded the American Jiu-Jitsu Association in 1945, later changing it to the American Jiu-Jitsu Karate Association International to encompass both Jiu-Jitsu and Karate. The AJKAI is an internationally recognized and renowned martial arts association known for its excellence and outstanding instructors.
Mr. Grose studied, trained and became friends with some of the top martial artists in the world. He has been associated with notable people such as Robert Trias, considered the father of American Karate, Hironori Otsuka, the founder of the Wado style of karate and the last grandmaster of Shinto Yoshin Ryu, and Shujiro Hotta of the Kendo Shinto Yoshin style from Japan. These are just a few people that Master Grose was involved with over his life.
Mr. Grose obtained the rank of 10th degree black belt in Jiu-Jitsu and Shin Mei Shorin Ryu Karate from the International Okinawan Budo Kai and the A.J.K.A.I.
He owned and operated several Jiu-Jitsu and Karate schools over the years and had students come to study with him from around the world. Mr. Grose was a much sought after martial arts instructor, giving hundreds of seminars all over the country.
Mr. Grose was noted for his generosity and humor.
From 1946 until retiring in 1974, Mr. Grose worked for the Peoria Police Department. In 1974, he became chief of police for the Farmington Police Department, stepping down in 1977 to pursue private investigations and devote more time to the martial arts.
Visitation will be from 5 to 7 p.m. Friday, Oct. 27, and from 10 a.m. until time of services Saturday, Oct. 28, at Davison-Fulton Woodland Chapel. Services will be at 11 a.m. at the Davison-Fulton Woodland Chapel. The Rev. Jack Thompson will officiate. Burial immediately following will be at Swan Lake Memory Gardens in Peoria, IL